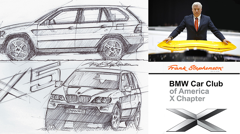 2020 Oct Virtual Event: X Chapter Presents Live Interview With Frank Stephenson
Seminar/Meeting w/ BMW CCA - X Chapter on Saturday, October 17, 2020 at BMW CCA Headquarters, Greer, SC - Continuing on our exciting news from last week, our exclusive call with world renowned and famous designer Frank Stephenson, will take place on October 17th, at 12:00pm EST. This special event w...
We urge everyone who wants to attend this webinar to register now!  We only have a certain number of spots open, so register early.   All chapters are welcome!  We look forward to everyone's involvement, and we're very excited at this opportunity!
Remember, be sure to submit your question to Frank at [email protected]
Registration ends on October 17, 2020 11:00 AM EDT